Tool for follow-up and holistic utilisation of UN HR Bodies
Published on 03 Dec 2018, 07:17 AM
Tool for civil society for effective follow-up to reviews and holistic utilisation of UN HR Bodies: with example of fundamental freedoms in Thailand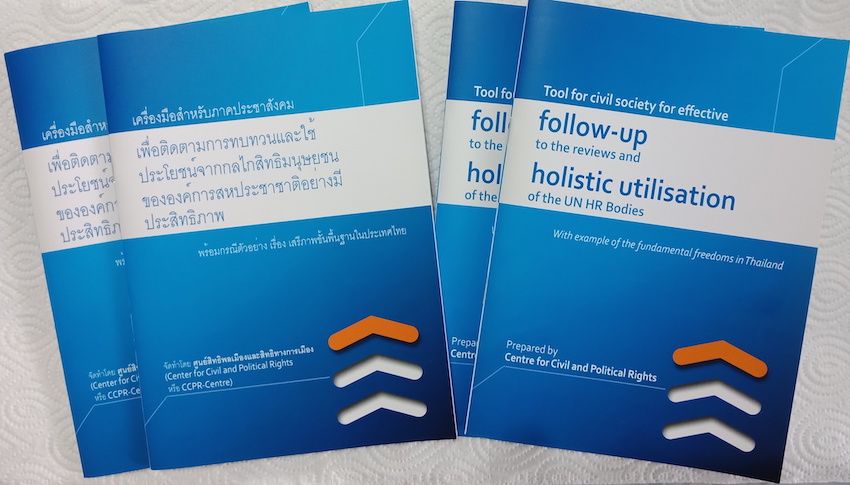 This publication was prepared by the CCPR-Centre in the framework of its project supported by British embassy Bangkok, aiming to assist efforts of stakeholders, in particular civil society, to effectively follow up reviews of Thailand by various United Nations (UN) Human Rights (HR) bodies and enhance implementation of recommendations issued by those bodies to Thailand, especially on the issue of fundamental freedoms. It is available in English and Thai.
As of now, a lot of information is available for stakeholders, including tools and materials prepared by CCPR-Centre, on how to report to the UN HR Bodies for the review. However, much less is done in relation to what can be done after the review, i.e. for the effective follow-up, which is without doubt the most crucial stage of the review mechanism of the UN HR bodies. This publication, therefore, seeks to fulfill this gap by providing practical information for civil society to enhance implementation of recommendations including through utilisation of follow-up procedures of relevant UN HR bodies. It also provides ideas and models for the holistic utilisation of UN HR Bodies. Each UN HR Body has its focus and strengths. Through years of work of the CCPR-Centre, it has been empirically proven that combining the opportunities and results of the reviews by different UN HR bodies can make bigger and more tangible impact on the ground.
While the tool puts particular focus on fundamental freedoms in Thailand, much of the information and strategies shared in this publication can be applied to other issues and countries.