Virtual Diploma "Human Rights, Justice, Equality and Protection Systems"
Published on 25 Jun 2021, 12:54 PM
CCPR and MEP organized a virtual diploma course on human rights for law students in Honduras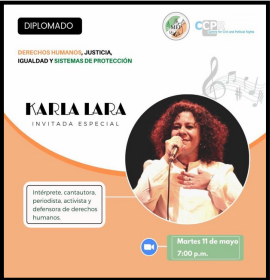 In November 2020, the CCPR Centre held some meetings with the authorities of Movimiento Participativo de Estudiantes (MEP) of the Law School in Valle de Sula and Ciudad Universitaria of the National Autonomous University of Honduras (UNAH). From these dialogues, the need to develop a virtual diploma course aimed at law students of the UNAH and other universities was identified, in order to strengthen civil society for the defence and monitoring process of human rights in Honduras. This was called Virtual Diploma "Derechos Humanos, Justicia, Igualdad y Sistemas de Protección".