Viet Nam: Recommended Actions from UN HR Mechanisms on Civil and Political Rights
Published on 25 Jun 2020, 10:24 AM
A tool for follow-up to the reviews of Viet Nam under ICCPR, CAT and UPR - compilation of all recommendations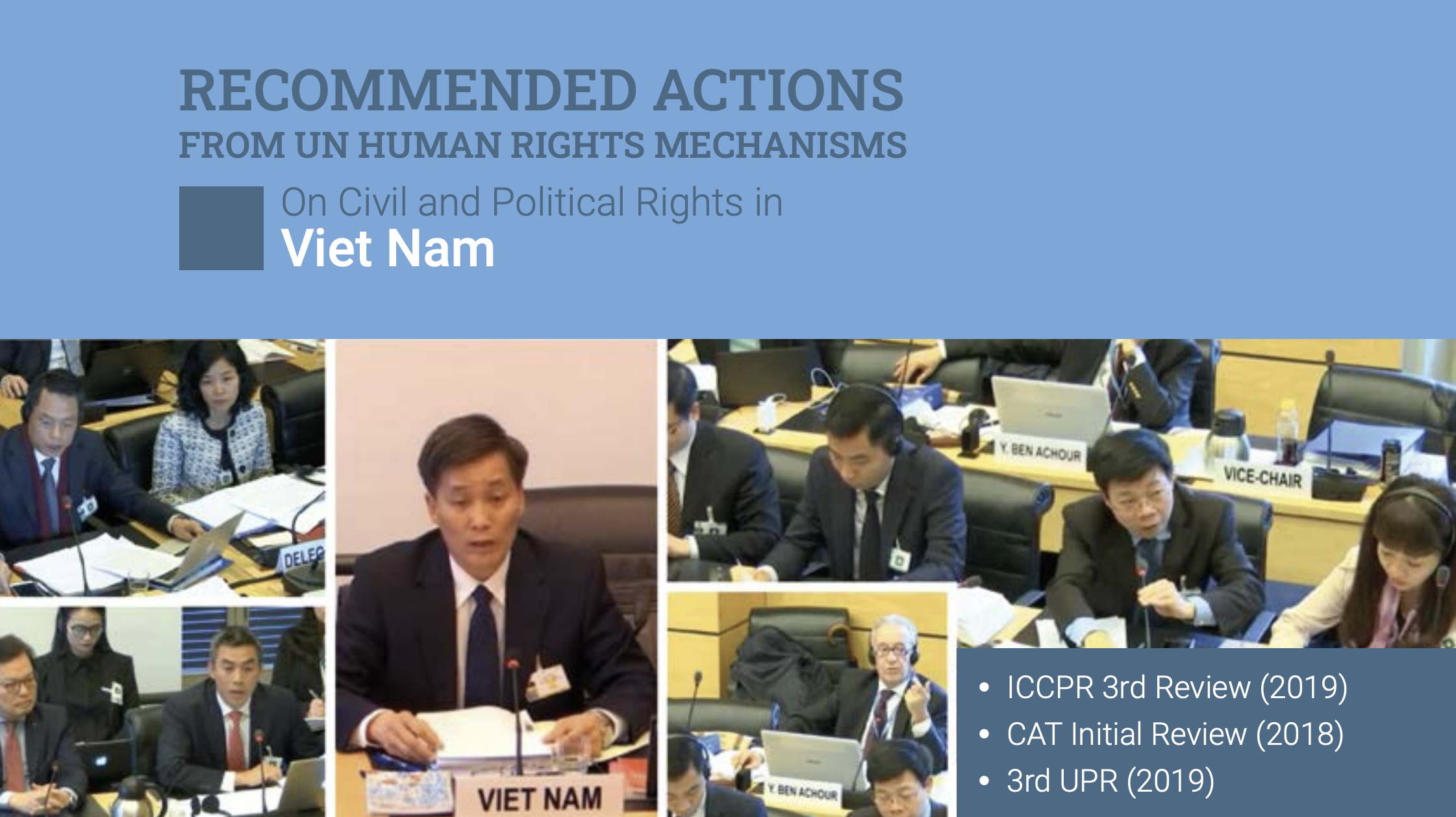 The Centre launched the publication "Recommended Actions from UN Human Rights Mechanisms on Civil and Political Rights in Viet Nam".
The tool provides simple explanation of: relevant UN HR mechanisms, such as the UN Human Rights Committee (HR Committee), the Committee Against Torture (CAT) and the Universal Periodic Review (UPR) including the basic review procedure of these mechanisms; mechanisms in Viet Nam for the implementation of recommendations issued by UN HR mechanisms; possible ways for civil society to follow-up reviews of Viet Nam by UN HR mechanisms; as well as an overview of reporting status of Viet Nam including deadlines for next reports to the UN HR mechanisms.
As its main element, the tool provides an overview of all recommendations issued by the aforementioned three UN HR mechanisms through the reviews of Viet Nam, respectively carried out by the HR Committee in March 2019 on Viet Nam's implementation of the International Covenant on Civil and Political Rights (ICCPR), the CAT in November 2018 on Viet Nam's implementation of the Convention Against Torture, and the UPR in January 2019, whereby various issues on the freedom of religion have been addressed. These recommendations are thematically categorized and listed in the table which also indicates the mechanism that issued recommendation concerned, its source, year of recommendation, reference in the National Plan of Action of Viet Nam as well as national agencies who are responsible for actions and their support.