Steps towards ICCPR ratification by Myanmar (Part 4)
Published on 19 Dec 2017, 10:00 AM
Second high-level workshop on ICCPR in Myanmar held on 14-15 December 2017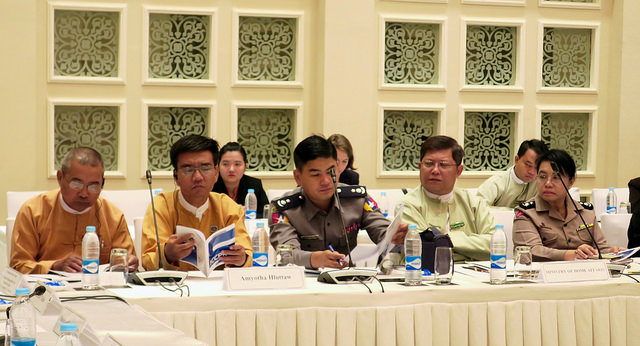 CCPR-Centre and the Ministry of Foreign Affairs of Myanmar (International Organizations and Economic Department, IOED) organised a Second workshop on ICCPR. The event took place on 14-15 December 2017 in Nay Piy Taw and gathered 50 representatives of diverse State Ministries, Parlamentarians, Supreme Court, National Human Rights Commission and scholars.
The workshop included presentations from Judge Krister Thelin, former member of the Human Rights Committee, and three keynote speakers who shared the experiences of their countries in joining and implementing ICCPR:
H.E. Ambassador Paul Seger, Embassy of Switzerland in Myanmar
Mr. Bonanza P. Taihitu, Ministry of Foreign Affairs of Indonesia
Ms. Nareeluc Pairchaiyapoom, Ministry of Justice of Thailand
The workshop is part of the on-going 2-year project to assist national efforts and enhance domestic process for the ratification of ICCPR by Myanmar. See previous activities here: Part 1, Part 2 and Part 3.
"It is our desire to become a State party to ICCPR"