Call for inputs for the UN Treaty Body Strengthening Process
Published on 24 Jun 2020, 03:56 PM
Stakeholders requested to submit their written contributions by 7 July 2020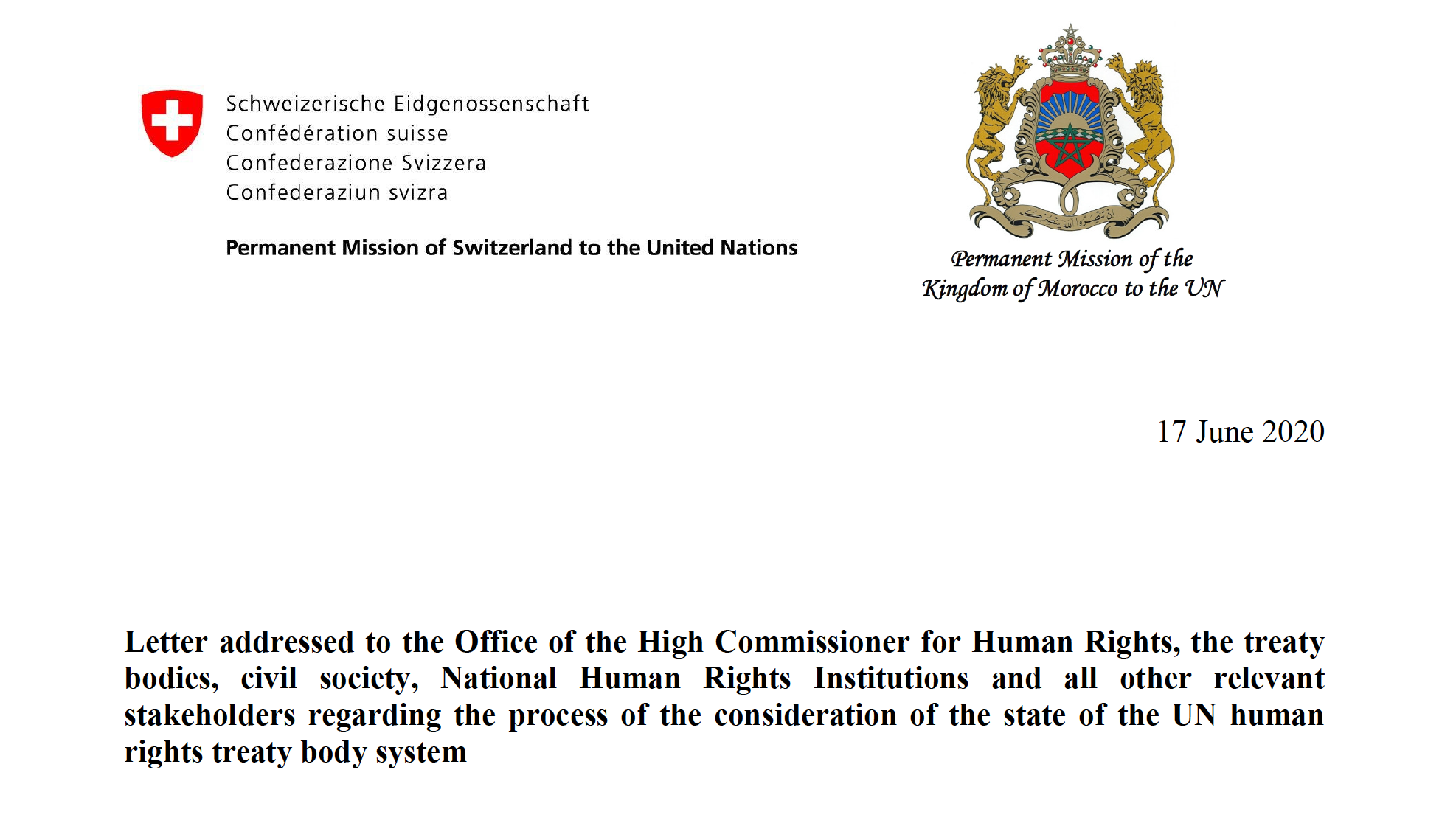 Co-facilitators (Switzerland and Morocco) of the process of the consideration of the state of the UN human rights treaty body system are calling for written contributions from stakeholders, including from civil society.
They will also hold online 'consultations' with States and 'dialogues' with other stakeholders, including civil society. The dates for the consultations and dialogues are not yet available.
For more information about the co-facilitation process you can visit this page on the OHCHR's website.
Among others, inputs are welcomed on following topics:
Functioning of the Treaty Body System: its efficientcy, effectiveness, strengths and weaknesses, suggestions for improvement;
Implementation of UNGA resolution 68/268 and views on biennial report of the UNSG on the status of UN Treaty Body System;
Good practices and methodologies for working methods and procedural matters, including their harmonisation and alignment;
Coordination and predictability in review cycles and reporting;
Current reporting system, including common core document, and ways for improvement and symplification of States' reporting while ensureing their quality;
Dialogue between States and Treaty Bodies, before, during and follow-up to the reviews;
Assessment of the Concluding Observations and recommendations;
Strengthening engagement with civil society and other stakeholders;
Capacity building for reporting and implementation of recommendations;
Use of new information and communications technologies including their potential for increased effciency and accessibility;
Opportunity for reviews in countries or in regions;
Preservation and strengthening of the independence and impartiality of Treaty Body members as well as their diversity;
Enhancement of the coordinating role of the Treaty Body Chairpersons;
Overall coherence of the Treaty Body system and the collaboration among Treaty Bodies as well as within the UN system and with regional bodies;
Funding, financial and human resources of the Treaty Bodies;
Current system of individual communications, inter-State communications and urgent actions: their efficientcy, effectiveness, strengths and weaknesses, suggestions for improvement;
Accessibility for persons with disabilities and wider accessibility and visibility of the work of Treaty Bodies; and
Efficient and effective use of the meetings of State parties.
Written contribusions of stakeholders should be made in Englisn, as a MS Word document, and sent to treatybodies@gmail.com by 7 July 2020.